Between December 22 and 26, a quintessential European Christmas party will turn Sun World Danang Wonders into the "Sweet Factory" draped in thick white snow and towered over with a giant confectionary pine tree that pushes visitors' excitement and delights over the edge.
This Christmas season, visitors who travel to Sun World Danang Wonders just with VND50,000/ticket will be overwhelmed with the fairylike ambience and setting of heart warming sweets lit up mythically and the dazzling whiteout of the snow. Blurry snowy drizzles, a giant confectionary Christmas tree and adorable reindeers take visitors into a marvelous journey to explore the best and finest of European season's greetings.
The vibant and upbeat ambience prevails over the complex as visitors are draped in non-stop music performances at the entry gate, such as a funny flashmob dance of Santa Claus and his female peer or a sweet carnival.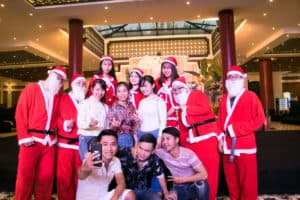 Christmas is yet coming, and a new year is drawing near. Let's head for Sun World Danang Travel to induilge yourselves in most mazing and exclusive tastes of joys that the complex presents to you all like a miraculous Christmas gift and our most sincere tribute ever.