Welcome to the International Women's Day, from 4/3- 10/3/2019 Sun World Danang Wonders has officially organized an event of theme of "Bloom her Moments" with desire to give a meaningful gift for women on the occasion.
With the shock offer, only with 50,000 VND/ticket, you would not only experience all the leading modern games in the world, but also participate in contious art parties during the program from March 04 to March 10, 2019. Every day, from 16h to 21h, Sun World Danang Wonders continuously took place the "Peony Melody" art shows, from romantic acoustic music to extreme hits mixed by top DJs. top, eye-catching Hip hop performances, or super adorable gifts from Uncle Mascot. The activities were taking place continuously at 4 stages with a completely new organization:  Sun Wheel, Indonesia, China, Singapore spread out space in the park, creating a vibrant festival atmosphere, making visitors excited to learn about activities in curiosity and enjoyment.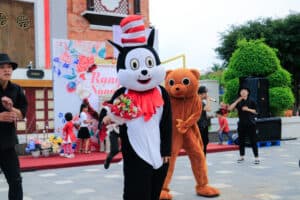 All of these experiences were just "appetizers" of March party that Sun World Danang has been specially designed for women. The extremely unexpected "main dish" was held in the evening of 8-9 March. An the most unique concert would be hold at right state of Sun Wheel so far "the park of records", called "Bloom her moments", with elaborately combined stage between music and dance, together with modern sound and lighting systems. Opening the program is stirred by top DJs with lively songs, or gentle and deep moments of : Huyen Trang, Bach Cong Khanh, Vo Dinh Phuoc … Especially, presence of famous artists such as singer Phi Nhung, singer Bao Thy, Vuong Khang, champion of Vietnam the Voice Kid 2016 Ho Van Cuong … and comedians Chi Tai, Quach Ngoc Tuyen and Hoang Meo … made the Music festival night be hotter than ever.
The 7-day series of events, with the enthusiastic response of visitors from all regions, helped Sun World Danang Wonders bring impressive figures such as: More than 4,000 visitors, nearly 200,000 times playing top world games, 500 art performances by professional artists. This can be said to be a great motivation for Sun World Danang Wonders to bring more impressive event programs to visitors.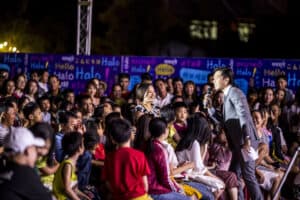 It is expected that in the coming time, Sun World Danang Wonders will promote weekly performances, so that visitors of the park will always experience new and unique activities.
Updated current ticket price:
Tickets for province outsiders:
150,000 VND/adult
100,000 VND/ child from 1m-1.4m tall
Free for child below 1m tall
Tickets for Da nang People:
100,000 VND/ adult
80,000 VND/ child from 1m – 1.4m
Free for children below 1m tall
Contact information: Sun World Danang Wonders
Address: No 1 Phan Dang Luu, Hai Chau district, Da Nang City
Telephone : (84)0236.3681.666 or 0911.305.568
Facebook: Sun World Danang Wonders