The festival is expected to last three months (up until September 3), and entitled "Childhood Dreams" that lull visitors into a fascinating world of travelling.
Sun World Danang Wonders is to be opened on June 10, and feature two humorous Masters of Ceremony Xuan Bac, Tu Long and "music prodigy" Trong Nhan (Winner of the Vietnam's Got Talent).
A fairy world from the "giant creature planet" will welcome visitors at the entry gate of Sun World Danang Wonders, featuring mysterious Cheshire Cat, Absolem Butterfly or glowing beaming mushrooms… While "Alice" in the Wonderland still fervently seek for the red or white queen or the hatmaker in Underland, a number of other "familiar strangers" such as Cuoi, the Carp, Batman, Pikachu or Doraemon the Cat Robot… unexpectedly pop up.
Leaving the "giant creature planet", visitors continue to be lost in the Dinosaur Planet. The huge Jurassic Park is fabulously presented in our eyes, from carnivorous dinosaurs to more benign carnivores… from underwater creatures to infant dinosauts with their glistening eyes… Visitors will never feel bored of their time off in this terrific planet.
Fans of the "Marvel Universe" should not miss out on the "Supehero Planet" as the commonplace of Spider Man, Batman, Iron Man, Hulk, even little Cupids with their bows shooting bright red arrows of love… In this planet, visitors just need to sneak into interactive dummies and strike a pose, and young people will immediately be turned into superheroes in their dreams.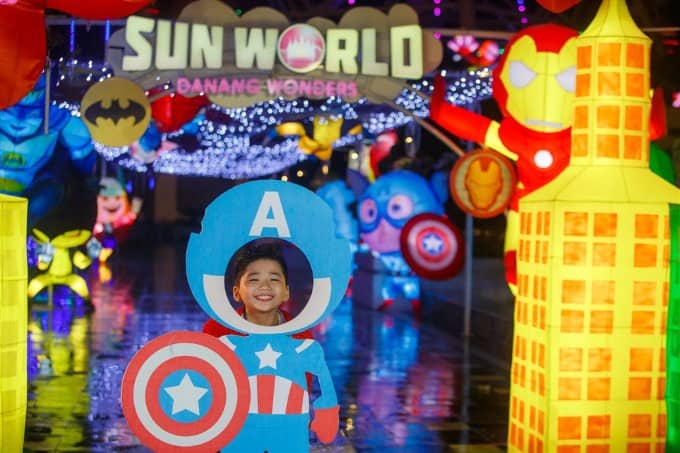 The final stop of this childhood dream voyage is Pokemon Planet whose lanterns are modeled after adorable characters in Pokenmon series and Pokemon Go game that once kept an entire generation on fire, such as Pikachu or Satoshi… One of the unique features of the 2018 lantern festival is the largest Sun World spaceship of Vietnam, poised to set a new Guinness record in the event.
Du khách không chỉ được phiêu lưu trong thế giới những chiếc đèn lồng lung linh, huyền ảo với đủ hình dáng, kích thước mà còn được sống trong không khí hội hè suốt ngày đêm. Các bé sẽ thích các tiết mục Aerobic thiếu nhi hay múa cô tiên, múa lân kết hợp dancer, dancer khủng long, ảo thuật từ các nghệ sĩ Ukraine… Ngoài ra, du khách sẽ được thưởng thức màn trình diễn ánh sáng đầy màu sắc của các vũ công Ukraine trong "Carnival thần tiên ánh sáng" hay màn múa ballet thiên nga với đèn lồng… Du khách có thể tự tay làm một chiếc đèn lồng và mang sản phẩm handmade của chính mình về làm quà cho người thân. Nơi đây còn có nhiều gian hàng đồ chơi, bóng bay nghệ thuật, đèn lồng nhiều màu sắc…
Spectators in this Sun World Danang Wonders Lantern Festival are not only immersed in heavenly, sparkling realm of lanterns and most spectacular performances, but also allowed to give a try to numerous outdoor games. These include romantic and softer ones such as Fairy Tea House, Journey to the West or Festival Carousel and more extreme, hair raising games such as Queen Cobra, Golden Sky Tower, etc. and hundreds of other indoor games. In particular, it's a big miss not to try the roller coaster train in Paradise Fall – a manufacturing masterpiece from Switzerland that was just launched last April and features terrifying 180-degree twists.
In the first week of the Lantern Festival (from June 10 to 16), each day Sun World Danang Wonders offer 200 free entry tickets to kids of 1m to 1.4m tall who stand in line earliest. Meanwhile, Sun World Danang Wonders also apply "Happy Wednesday Program". Accordingly, visitors who buy All In One tickets every Wednesday will be entitled to an equivalent ticket. For further details please visit here.
Contact: Sun World Danang Wonders – 01 Phan Dang Luu Str., Hai Chau Dist., Danang.
Tel: 0236 3681 666.
Opening Hours: Monday – Friday: 3pm – 10pm; Saturday & Sunday: 9am – 10pm.