On occasion of the 44th anniversary of the Liberation of Danang (March 29, 1975 – March 29, 2019), from March 18 to April 7, 2019, Sun World Danang Wonders come up with new program "Golden Tribute, A Big Deal" as exclusive for the locals of Danang – Quang Nam – Hue.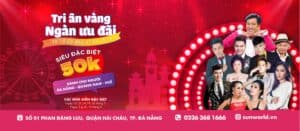 Accordingly, entry ticket fare to the complex of records is down just to VND50,000. The ticket fare not only locals of these three Central municipalities to freely play and dine with hundreds of facilities at Sun World Danang Wonders, but also offer them lots of new entertainment items and particularly mesmerizing art shows.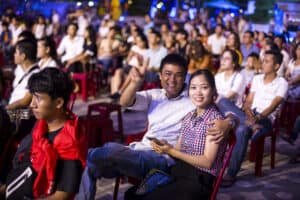 Lasting three weeks from March 18 to April 7, 2019, this golden tribute program to celebrate the 44th anniversary of the Liberation of Danang of Sun World Danang Wonders will lavish all visitors to the complex with numerous new art performances to the locals and visitors alike such as mirror dance or robot drum dance…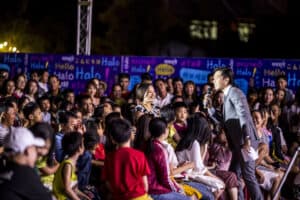 Particularly, on weekend nights of March 29 and 30 and April 7, Sun Wheel stage in the complex will be heated up with a new art show entitled "The Return". It is to be the commonplace of various celebrities such as comedian Truong Giang, singer Nam Cuong, Bach Cong Khanh, Vu Bao, Hoang Nam, ina Ngoc Nu, MC Xuan Kieu, etc. who contribute their choicest music and art performances to enrich the overall performing landscape of the Han River city. Specifically, Danang locals will find it exciting to browse through the miraculous evolution of their city in the spectacle "The Carp Transformed into the Dragon" that is set up at a grand scale and performed by talented artists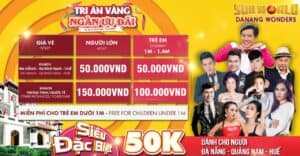 In addition to our marvelous art performances that run a wide spectrum of excitement and solemnity, visitors to the complex in this tribute week may have their senses renewed with the lush and inspiring ambience of the long coined "green oasis of Danang". The boundless plot of green trees and vast lakes and many spacious outdoor and indoor game zones that are deservedly ranked among the most attractive of the continent makes Sun World Danang Wonders a truly commonplace by night and an ideal rendezvous of peer groups and families.
Spanning a total area of 868,694sqm on the western bank of Han River, Sun World Danang Wonders enable enthusiastic adventurers to explore out loud a set of 22 outdoor extreme games such as the Monorail – the most advanced suspended tram car of Vietnam, Singapore Sling – Top 10 most extreme games of the world or Golden Sky Tower – the largest freefall tower of Vietnam… Meanwhile, families are draped in the reunion joys on weekends with their children in the indoor game zone that involves amusing and educationally rich games that stimulate their motor skills and creativity. For adults, just to stroll in the fresh air and marvel at signature landmarks of many neighboring Asian countries such as the Fort Gate, Clock Tower, Sun Wheel, Dragon Boat or Buddha Statue… is also a notable pursuit for weekends.
A slew of new activities and countless places of interests at the largest amusement complex of the Centeral region for just VND50,000/ticket is the most valuable expression of gratitude in program "Golden Tribute, A Big Deal" that Sun World Danang Wonders present to the locals of Danang – Quang Nam – Hue in celebration of the Liberation of Danang. It's also the opening event for upcoming bonuses and irresistibly attractive events that visitors can hardly miss in Sun World Danang Wonders this summer.