Hot!Hot!Hot!
JUST FOR  VND50,000/ticket, great opportunities for the MAGNIFICENT 2018 LION AND DRAGON DANCE CHAMPIONSHIP!!!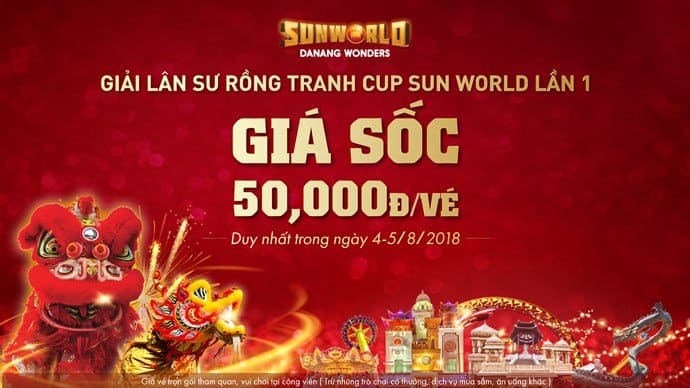 A one-of-a-kind sensation on the Full Moon Holiday, the most prestigious Lion Dragon Dance Championship is now hosted in Sun World Danang Wonders.
Term of use: ONLY TWO DAYS OF AUGUST 4 AND 5, 2018 FOR A SHOCKING PRICE OF JUST #50K/FULL-PACKAGE PRICE
An opportunity to experience a great slur of games and extravaganza from 29 lion dance troupes from throughout the country vying for the Lion King trophy.
The championship is undoubtedly a tit-for-tat arena, the most breathtaking and redoubtable one ever in the history of Sun World Danang Wonders.
Bet you can't sit still, 1000% sure !!
Don't just sit there, or you will miss out on this golden opportunity !!
#Daihoilansurong
#Lehoidenlong
#Muontrainghiem
#vantiengcuoi
#nhanhathichme
#Vuichangmuonve
#sunworld
#danangwonders