Taking place from December 13 to December 31, the Christmas Festival at Sun World Danang Wonders will take you on a journey to Santa's Rovaniemi village, but in an extremely cute miniature version. Just walking to the village, the whole European Christmas region opens. The entrance to Santas Village is a colorful shimmering street, promising an exciting journey of discovery.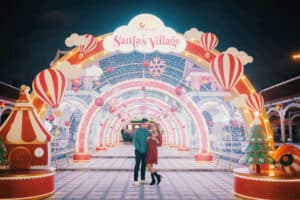 Santa Claus's toy workshop is located at the foot of the Sun Wheel, stylized vividly in the shape of a giant 11m high, 6m wide Christmas tree. This special tree is not only a masterpiece of art but also contains a message about preserving the environment. The entire pine tree is made of 5000 plastic bottles, fussyly arranged with impressive layers.
This will be a quite strange "check in" point for tourists to Sun World Danang Wonders Park in the festive season. While engrossed in check-in with the huge pine tree, unexpectedly, Santa's circus appeared, opening up a vibrant game world with a magic wooden horse spin in the story "Alice in Wonderland".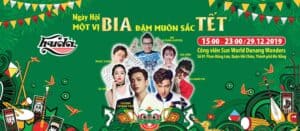 Not only attractive thanks to this lively festival scene, on the occasion of Christmas and New Year, Huda Carlsberg music party is also held at Sun World Danang Wonders. On the evening of December 29, when the New Year approaches, Santa's village will explode in a passionate, vibrant EDM festival with the participation of young artists like Soobin Hoang Son. ST (Son Thach), DJ Minh Tri, DJ Mie, Hoang Rapper……
The "hits", the passionate dances from EDM and great Christmas atmosphere with the irresistible delicacies, the best Christmas spot in Danang is right here.