From now until January 01, 2020, visitors to Sun World Danang Wonders will have an EATING + PLAYING COMBO at a discounted price of only 269k/ adult; 169k/ child (1m-1m4): with FREE entrance fee, visitors can experience a buffet "from A to Z" with 100 dishes from all over Asia at the "Buffet World" restaurant
Located inside Sun World Danang Wonders Park, the Buffet World restaurant is like a "special spice" that gives Han River city cuisine a "new breeze" amidst countless choices of seafood. The trip would not have much to tell, if it does not take diners from one surprise to another, feeling free to choose in the culinary world with 100 typical dishes of Asian countries.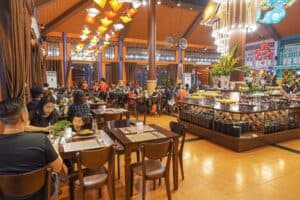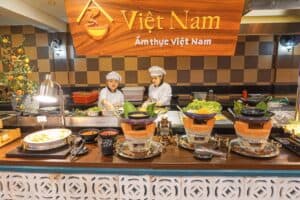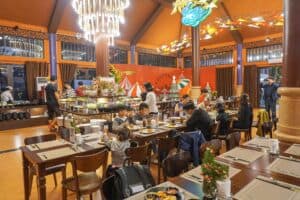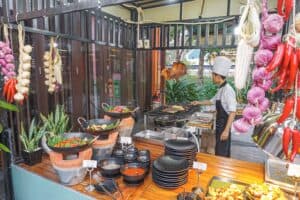 Korean buffet with aromatic flavors that are familiar to those who love Kimchi, Bibimbap, Kimbap, cold noodles, BBQ skewers, Tteokbokki rice cakes…. Thai cuisine is teary but delicious, hard to resist with stir-fried Pad Thai noodle, chicken curry, pork skewers… Straying to Japan, you cannot stop when standing in front of the colorful Sashimi, mixed sushi, bacon and asparagus rolls… Going to Buffet World restaurant is also a journey around Asia's most famous countries, to satisfy the cravings for Singapore Frog Porridge, Indian Grilled Chicken, Cantonese Roasted Duck, Hong Kong honey barbecue pork, Malaysian Chicken curry… And then, when stopping at the Vietnamese court, diners are again traveling from the South to the North through the delicious flavors of the three regions. Baked pork of the North West region, chicken pho, rice noodles with bamboo shoots and meat balls of the North, or famous cakes from the Central to the South such as bot loc, beo, nam, it…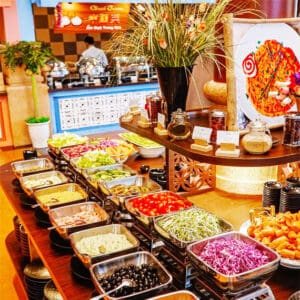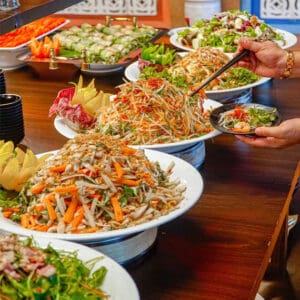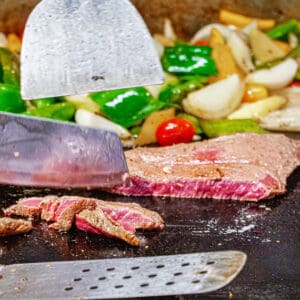 Visiting Danang without eating seafood is not a sea trip. Shrimp, crab, crab, squid here… are all fresh, is not easy to refuse. If you like snacking, there are Vietnamese lotus sweet soup, Hongkong sweet potato sweet soup, ice cream, fruits… waiting for you. Going to Buffer World, you will wish your stomach could be bigger.
With a total area of over 1,820m2, accommodating 700 diners, Buffet World is not only an address for families to gather every afternoon or at the end of the week, but also a perfect choice for companies, family groups, friends to organize birthday parties, reunions… More amazing is that: at Buffet World, diners can not only enjoy delicious food but also enjoy free entertainment in the biggest amusement park in the Central Region – Sun World Danang Wonders, with the Eating-Playing combo for only VND 269,000/adult ticket, and VND 169,000/child ticket, valid until December 31, 2020.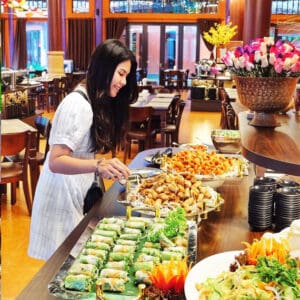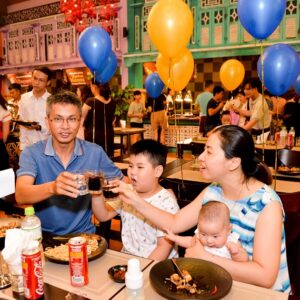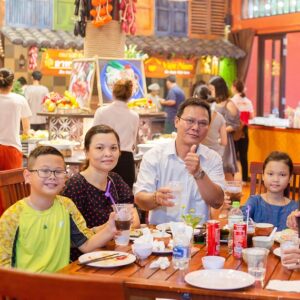 Discover a breathtaking Asia in each cultural area, unleash your experience and challenge yourself with the world's top games, and enjoy the feeling of being pampered on the green paths, breathe the fresh air of a green oasis, forget all the troubles and treat your taste buds with irresistible delicacies, just go to Sun World Danang Wonders and have a perfect vacation in Danang.