From 01/06- 31/12/2019, food lover shall have an opportunity to eat the whole world, have fun with 15% discount when booking Buffet combo tickets at Now.vn. Accordingly, adult fares from VND 235,000 down to VND 200,000 per ticket; Children (1m-1.4m tall) from VND 135,000 down to VND 115,000 / 1 ticket, and free for children less than 1m tall. This is the rarest opportunity of the year so visitors can experience Southeast Asia's largest theme park and enjoy all 100 delicious dishes across Asia at great prices.
With this offer, visitors can freely discover themselves with the world's leading games such as Monorail – the most modern high electric train in Vietnam; Queen Cobra – the largest hang glider in Vietnam with 5 continuous 3600 turns on 34m altitude; Golden Sky Tower – the tallest free fall tower in Vietnam with 47 m high, equivalent to13-storey high building … And then, stop at Buffet World restaurant to satisfy craving of Australian Beef, Singapore Frog Porridge, Indian grilled chicken, Guangdong roasted duck, Hongkong Honey char siu, Malaysian chicken curry chicken … or enjoy Vietnamese dishes that are both familiar and strange, such as rice noodles soup with chicken (phở), pasta noodles (mì quảng),  rice noodles with bamboo and grinded pork, water fern cake (bánh bèo), tapioca dumpling (bánh bột lọc), flat rice dumpling ( bánh nậm), stickly rice dumpling on a pancake (bánh ram ít)…Especially it is impossible to miss seafood such as fresh shrimp, crab, squid… that are attractive to enjoy.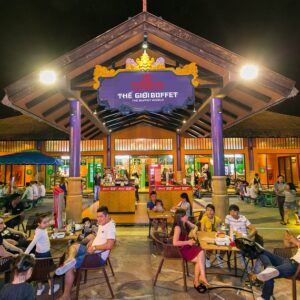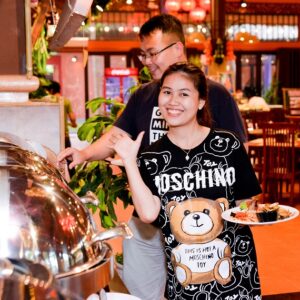 Only with 200,000 VND, it is real that you can eat the whole, don't hesitate to book this attractive offer at Now.vn !!!
Click to the link to: https://www.now.vn/da-nang/table/the-gioi-buffet-sun-world-danang-wonders