From 1/6/2019, Sun World Danang Wonders officially launch unprecedented shock offers. Just bring your ID card to the ticket counter and do some simple tasks, you will get a Sun World Da Nang Wonders membership card right away with shock offers that: enter the gate freely, have fun play only with 300,000 VND/ person/ year.
This offer brings you endless moments of fun when experiencing 22 modern outdoor games such as Sun Wheel- the world's top 10 largest Wheels, Singapore Sling top- top 10 the most thrilling games in the world, the tallest Golden sky Tower in Vietnam, Queen Cobra -the largest hang glider in Vietnam… With the young people who love fun will be delighted to experience the biggest amusement facilities in Vietnam with 64 new and exciting coin games.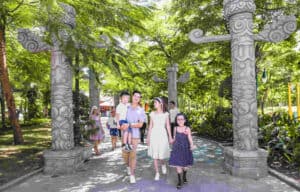 With this powerful card, you can have fun and participate in all events or New Year Holidays, Holidays and unlimited number of visits.