On the occasion of 44 year anniversary of Da Nang Liberation Day (March 29, 1975 – March 29, 2019), from March 18 to April 17, 2019, Sun World Danang Wonders celebrate "Golden Gratitude, thousands of offer" program with countless unique and new activities that will take place every week. This is a grateful gift that Sun World Danang Wonders wants to give to all visitors.
Opening the month of event 22, 23, 24/03 nights will be classic shows: giant bubble witch, mirror dance, fire dance, mobile circus, which will surely make you interesting and admirable.
Following 29, 30/03 nights, you have chance to meet comedian stars like handsome Mr Long, singer Nam Cuong, Vu Bao, Hoang Nam, Tina Ngoc Nu, Ngoc Lien and MC Xuan Kieu, DJs and dance groups, promising to bring an exciting and explosive music night.
Especially concert night that shall takes place on April 05, 06, with the appearance of leading Vietnamese showbiz stars such as comedian Truong Giang, singer Nguyen Phi Hung, Hoang Nam, Bach Cong Khanh and Hong Minh , Xuan Ly – Ngoc Huyen, Hong Gam, and graceful speaker of  MC La Thoai Phi. Definitely bring to you a lively and full of laughter.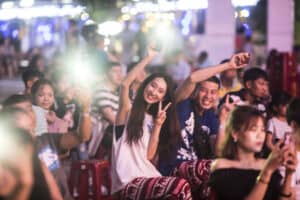 Let's arrange your time immediately to meet your favorite idols at Sun World Danang Wonder No. 1 Phan Dang Luu, Da Nang!!!