Between January 1 and December 31, 2019, Sun World Danang Wonders officially roll out a shocking bonus for all students enrolled in colleges, universities and vocational schools nationwide.
  Accordingly, entry ticket fare of Sun World Danang Wonders is reduced to just VND 100,000/full-packaged ticket. For this bonus to be realize, you are just required to present your student cards upon purchasing entry tickets to the complex.
This bonus enables students to experience a rich set of 22 of the world's state-of-the-art outdoor games such as the Sun Wheel – Top 10 largest Ferris wheels of the world, Singapore Sling – Top 10 most extreme games of the world, tallest free-fall tower of Vietnam Golden Sky Tower or the largest suspended roller coaster of Vietnam Queen Cobra… More particularly, students are also indulged in some novel sensations stimulated from Highway Boats game released on January 1, 2019.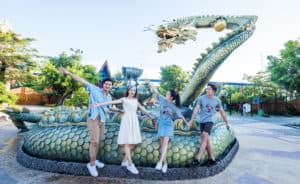 Here, those with itchy feet are also treated to a tranquil trip on the Monorail to explore a miniature Asia and most ubiquitous cultural landmarks of 10 Asian countries. Following your playing hard, students are then draped in the serene ambience under the leafy glade and enjoy best foods of the three national regions, notably hundreds of authentic local delicacies.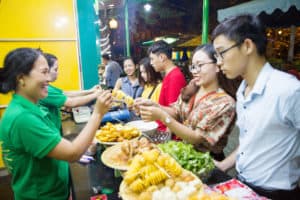 Ticket fare discount for students is one of many bonus programs offered by Sun World Danang Wonders in the beginning of the year in order to enable young students to enjoy the vibrant recreational world at a regional scale in this coastal city of Danang.