From now until 31/12/2019, coming to Sun World Danang Wonders, you shall get EAT+ PLAY COMBO at discount of only 235,000 VND: Free entrance ticket and experience a Buffet meal "from A-Z "with 100 dishes from all over Asia in "Buffet World" restaurant.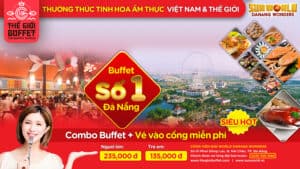 Located in Sun World Danang Wonders Park, Buffet World Restaurant – is like a "special spice" to bring cuisine of Han River City a "new wind flow", among counterless options of seafood. That excursion would not have much to tell, if it don't take you from one surprise to another, when it was comfortable to choose in the culinary world with 100 typical dishes Asian countries.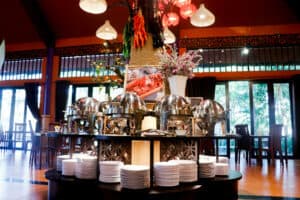 Korean buffet corner is fragrant with flavors which are very familiar to those who love Kimchi, Bibimbap mixed rice, Kimbap rice roll, Cold noodles, BBQ skewers, Tteoknokki rice cakes….. Thai cuisine is spicy but delicious hard with Pad Thai Fried Chicken, Curry Chicken, Fried Skewers … Lost to Japan world with full of colors from Sashimi, mixed sushi, bacon Pork side roll in asparagus…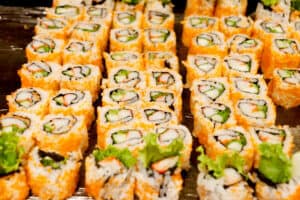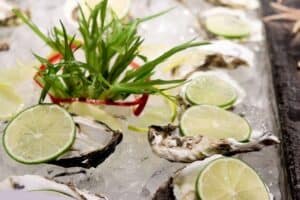 Going to the end of World Buffet restaurant is also a journey around the most famous countries in Asia, to taste Singapore frog porridge, Indian grilled Chicken, Guangdong roasted duck, Hongkong honey char siu , Malaysian curry chicken … And then, when stopping in homeland of Vietnam, you will be able to travel from the South to the North through the delicious three-region taste like roasted pigs with Zanthoxylum rhetsa of Northwest region, rice noodle soup with chicken, North Bamboo grinded pork vermicelli, or famous cakes from Central to South like: water fern cake (bánh bèo), tapioca dumpling (bánh bột lọc), flat rice dumpling ( bánh nậm), stickly rice dumpling on a pancake (bánh ram ít)
It seems to be wasted if visiting Da Nang without tasting seafood. Here, fresh shrimp, crab, crab, squid … shall make you not easy to refuse. If you like snacks, available Vietnamese lotus sweeten gruel, Hongkong sweet potato gruel, ice cream, fruits … satisfy you. To Buffer World, only wish that yourself stomach is more biger with few more compartments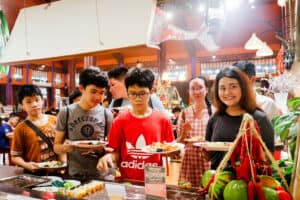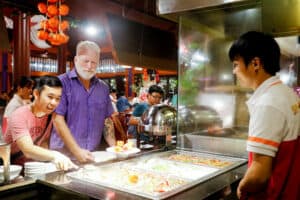 With a total area of more than 1.820m2, accommodating 700 guests, Buffet World is not only address for families to spend every afternoon or weekends but also a perfect choice for companies, groups of family and friends for birthday, meeting parties … More wonderful than that the World Buffet brings you on the occasion, not only eat well but also have fun in the largest leisure park of Central, Sun World Danang Wonders, with Eat-Play combo costs only 235,000 VND/adult, and 135,000 VND/child, applicable to December 31, 2019. In addition, weekend nights will also have a series of artistic activities such as fire dance, bubble clown, street music band, promising to bring relaxing moments for you and your family.
Discover a breathtaking Asia in each cultural corner, experience and challenge yourself with the world's top games, and enjoy feeling of indulging yourself while walking on green paths, inhaling fresh air of a green oasis, forgetting all the troubles and entertaining your taste with irresistible delicacies, just Sun World Danang Wonders probably brings you a perfect vacation in Danang.