Happy New Year 2023, Asia Park opens the new year with extremely emotional "WOW" experiences!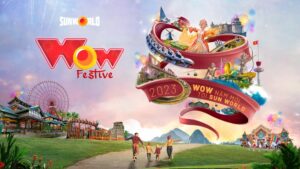 Asia Park welcomes visitors with a variety of unique experiences
Welcome the new year with endless experiences at Asia Park, "WOW" between the miniature world of Asian wonders in Da Nang and many exciting events. With FREE ENTRY for all visitors, promises exciting journeys of discovery of the wonders. Or be full of eyes with the dance art party "Dragon Lion – Ascension Dragon" and exciting Random Dance for weekend evenings (every Saturday, from 19:30 to 20:00). And yet, it is impossible to miss more than 20 super-challenging thrilling games, mysterious Haunted House or indoor game world and exciting challenging carnival games.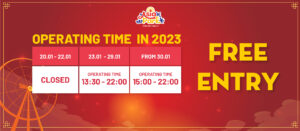 Asia Park's Ticket Package:Sun Wheel ticket: operates from 13:30 – 22:00+ 100,000 VND/adult ticket+ 50,000 VND/ticket for children 1m -1m4

(Free for children under 1m according to safety regulations)"
All-in-one Package ticket operates from 13:30 – 22:00

+ 200,000 VND/adult ticket

+ 100,000 VND/ticket for children 1m-1m4

(Free for children under 1m according to safety regulations)"
Single ticket package operates from 20:00 – 21:30

+ Adults: 50,000 VND/ 1 game turn; 100,000 / 3 games

+ Children: 30,000 VND / 1 game turn; 60,000/3 games

+ Family Entertainment Center ticket: 35,000 VND /1 ticket (>1m)

(Free for children under 1m according to safety regulations, not availavle for Sun Wheel)
---
For more information, please follow us on Fanpage:
https://www.facebook.com/AsiaParkCongvienChauA